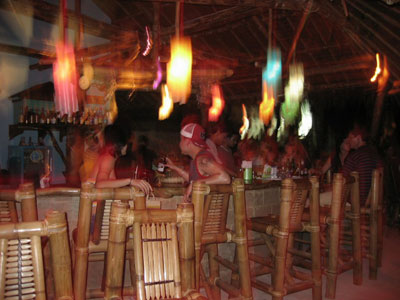 Apart from sunbathing and of course diving, people need to eat on holiday and that's no problem on Boracay. We had only booked room-breakfast and had to look for a restaurant every evening. There was a Swiss-In, for example, where you can order a decent "Rösti" on the Philippines. But that's not why we didn't fly halfway around the world. So then more local cuisine and it tastes very good. On Boracay you can find a restaurant for practically all tastes. For me there was the first highlight at the roadside, satay sticks! I bought a dozen of them as an appetizer.
If it doesn't taste good there is always a dog in range somewhere...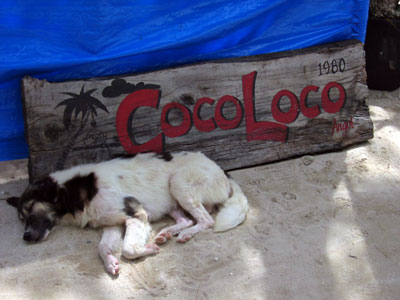 The prices are or were extremely favourable, especially in the bars and here is happy hour from five o' clock in the afternoon until ten o' clock in the evening! Worth mentioning is the Coconut Killer in the Barracuda Bar. If you can drink such a thing in a train and still stand after it, you will enter the Hall of Fame, i. e. you will be immortalized above the bar with names. We had the pleasure to be present at a race (only as spectators). A little Fillipino has won and ran to us and with the words "look I have won!" he sank peacefully into the sandy ground, as his two British challengers had shown him a coconut killer before. Having fun on Boracay is really not difficult. However, divers should be careful not to dive too deep the next day.