The dive center is operated by Diverland, which also operates other bases on Gan and Summer Island. The basis trains according to PADI guidelines and offers Rebreather (Dräger Dolphin) courses as a special feature. Since a recirculation unit produces (almost) no bubbles, you can dive with them almost silently.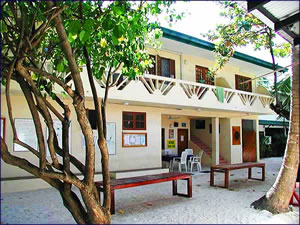 hus it is possible to get very close to the fish, as they are not driven away by the breathing noise. This is an advantage that photographers and videographers in particular appreciate.
The rental equipment is in very good condition and the team is very helpful. Whether you need advice or after the dive a deco beer, you feel like you're in a diving family. The Diverland Raclette is very famous for the hard boiled Swiss (see picture gallery)!
Embudu benefits greatly from its house reef and if you book a Non-Limit package, you can dive 24 hours a day. This means not only to do these pseudo-night dives shortly after sunset, but also at midnight, for example, when it is really night to get back into the water.
The diving dhoni is very spacious and has a sun terrace, so that you can still sunbathe despite the sometimes long travel times.
Sepps Place
Viligili Corner
Bolifushi Wreck
Bolifushi Wreck
Bolifushi Corner
Vellasaru Caves North
Vellasaru Corner
Vadhoo Coral Garden
Vadhoo Channel
Hameed Reef
Embudu Finolhu Outside
Embudu Express
Embudu Thila
Fusilier Reef
Turtle Point
Ghuli Outside
Bushi Outside
Digu Thila
Lemon Reef
Maafushi Thila
Cocoa Corner
Kandooma Caves
Guraidhoo Channel
Medhu Faru