Green in the middle, white on the edge - Embudu is a Maldives island from the picture book. No wonder that the island has been a favorite among Swiss, German, Austrians and Dutch for many years: perfect appearance and perfect dive sites are an irresistible mixture. Embudu is located at the north-east end of the South Male Atoll and is approximately 8km from the airport and the capital city of the Maldives. Thanks to the short distance, the island can be reached in just over half an hour.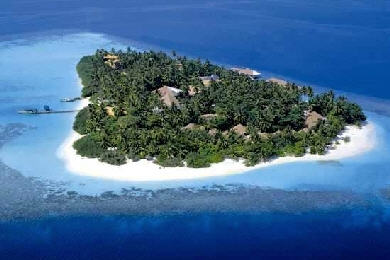 Embudu is not one of the young resorts: as early as 1979 the pretty wedge shaped tropical island of 285 by 145 meters opened its doors for tourists. The island never was a shooting star, but it has slowly worked its way up througt continuity and with its dreamlike environment into the hearts of the Maldives and the top spots of the popularity scale.
The special location of Embudu in the canal is especially beneficial to Snorkelers. Here they have a good chance to snorkel with eagle or even manta rays. For divers, there are also 30 additional diving spots which are approached.

Embudu has a dense vegetation with beautiful palm trees and a huge lagoon - ideal for swimming. The beach is quite narrow, but stretches far into the sea on three sides of the island. The corals come so close to the island that it was not possilbe to establish for the water bungalows direct access to the water.
Despite the good service and the almost formal main buildings the atmosphere is casual - a real barefoot and feel-good island. This is why so many guests are returning frequently to this little paradise.
Sketch of the Island