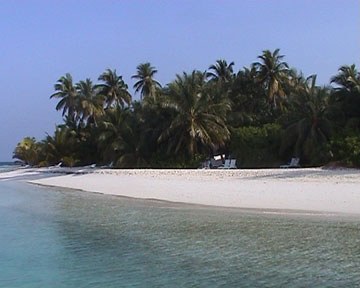 The small island of Vakarufalhi with its tall coconut palms and tropical bushes also offers an all-inclusive holiday with high comfort and some extras. A beautiful sandy beach of different widths surrounds the whole island and snorkeling is possible without problems in the nearby house reef. The island offers a very quiet, contemplative holiday and is one of the most beautiful islands in the Ari - Atoll.
Vakarufalhi is about 95km from Hulhule International Airport and can be reached by waterplane in about half an hour.
The hotel resort was only opened in 1995 and offers space for approx. 100 guests with its 50 spacious bungalows with palm roofs. The 50 standard rooms have a semi-open bathroom with bathtub/shower (hot water) and an outside shower, which only has "cold water" (cold water means approx. 25° Celsius and is therefore refreshing rather than cold). Furthermore, the rooms are equipped with hairdryer, air conditioning, mini-bar, sitting area, telephone, stereo system (CDs can be borrowed free of charge at the reception), large glass doors to the beach front and small terrace on the sea side with couch or seating facilities. For families there are on request some double bungalows with connecting door.
Resort Offerings
Semi-open restaurant with sandy bottom and excellent cuisine
Hotel bar with sandy bottom and nice terrace
Play corner with darts and family games as well as a small hotel library where you can exchange your finished books for new ones.
satellite TV
Boutique and jewellery shop
Reception desk with free safe
Sports and entertainment
Open-air table tennis
Volleyball
Football
Badmington
Windsurfing
Catamaran Sailing
Snorkeling
Diving (without extra charge for Nitrox)
Occasional disco or video evening
If necessary, a medic is available on the neighbor island of Dhagethi, the journey to there takes about 25 minutes.
Vakarufalhi belongs to the quieter islands without much entertainment, but with pure relaxation. If you value a pleasant atmosphere and don't need to be entertained, this is the right place.
Island Sketch