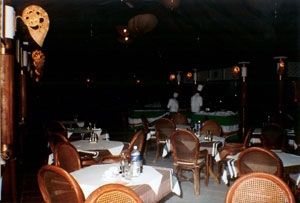 Breakfast is served from 08:00 am to 10:00 am with coffee, tea, milk, O- and mango juice, cornflakes, toast bread, butter, honey, two kinds of jam, ca. 15 different types of pastries and cakes, individual pancakes, cheese slices, bread rolls from time to time, eggs boiled on request, omelettes with four possible ingredients, mirror and scrambled eggs, fruit both fresh and preserved.
Lunch and dinner from 13:00 to 14:30 p. m. or from 20:30 to 22:00: alternately buffet or menu; salads of all kinds, tomatoes, cucumbers, olives, pasta, pasta, pizza, curry, rice, fries, fish and beef, soup, sausages, desserts, puddings, cakes, fruit; absolutely delicious is the barbecue every Wednesday evening (grilled tuna and chicken)
Drinks in the restaurant: draught tiger beer, Coca Cola, Fanta, Sprite, white wine, Alster, water exclusively in the jug. So you can't take water for free into your room or dive dhoni.
Coffee Shop from 10 a. m. to 1 p. m. and from 2 p. m. to 7 p. m.: various non-alcoholic drinks, cakes, pizzas, biscuits, from time to time the TV (usually BBC)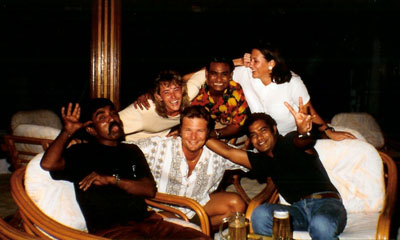 Beach bar from 10 to midnight: very cosy, alcohol from 13 o' clock, at least ten different cocktails are included in the AI as well as several spirits, every evening animation in Italian and English language from approx. 22:30 o' clock for a short hour.
Monday Coupling
Tuesday Live Music with a singer
Wednesday Scetch Up
Thursday Mr. Maayafushi
Friday Maldivian Night and Disco
Saturday Beach Volleyball at night
Sunday Miss Maayafushi
Animation didn't exist in that time, but we had a lot of fun with the hotel and dive center staff, as you can see.