MS Number One - still number one!
The MS Number One was one of the best diving ships in the Red Sea. Although it no longer offered the ultimate comfort, it was a real diving ship. The ship had a large boarding platform and was equipped with two Zodiacs, so that 20 divers could be driven to the dive spots at once.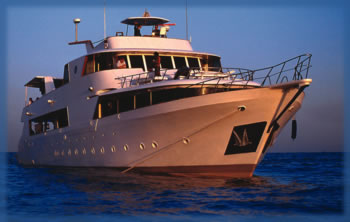 The ship was also excellently equipped for a convivial get-together after diving, with a comfortable lounge in the front area and a cosy sun deck with seats aft. Here you can enjoy a comfortable drink and discuss the dives you have made. The MS Number One was stationed in Hurgadha and reached destinations in the northern Red Sea.
Wracks im Norden
Tiran
Ras Mohammed
Brother Islands
Daedalus Reef
Rocky Island
St. Johns Inseln
Shab Sataya
Marsa Alam
Elphinstone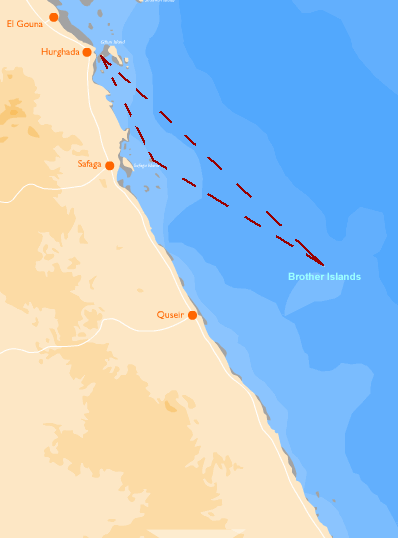 Ten crew members looked after a maximum of 20 guests in ten double cabins. The cabins had enough space and were equipped with washbasins and air conditioning. The two bow cabins were slightly smaller than the others.
It's amazing how well you've been fed on board. The chef (Hassan, the giant) tried to indulge his guests and he succeeded. Since most of the time the diver was dived at six o' clock immediately after getting up, the diver will appreciate a rich breakfast afterwards and also need it.
At lunchtime and in the evening there was a warm menu, which was even more extensive in the evening. Potatoes and rice were the basic ingredients. Meat and vegetables were also available. Of course, vegetarians were also taken into account and even very special diets such as raw food could be served.
The drinks had to be paid separately - at least with my bookings. However, the prices were moderate. The only drawback is that in Egypt, only this Stella beer is usually available. I wonder if it's really true that the Egyptians invented beer brewing.
Usually the dive started on the first day with a "diving" at one of the reefs of Hurgadha (Panorama Reef, etc.), after that we went overnight to the Brothers, which are about one hour away. 80km from the mainland. The ship's confidence in one of the two Brothers was always a gigantic spectacle, as there are no anchor buoys. The process took hours each time and cost the captain's nerves. Now five days of diving followed at one of the best divespots on this planet. But more about this in the diving section.
After decommissioning, the Number One was sunk at 5:00 a. m. on 28 March 2008 in front of the new marina in Hurghada to become an artificial reef as a wreck. RIP Number One!