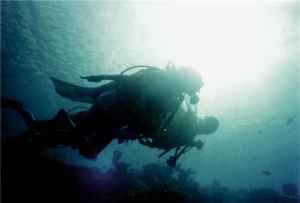 The dive center is managed by our own Maayafushi Dive Center. Since many years have passed since our visit in 1998, it makes no sense to list the names of the dive guides. According to the nine pictures, the Divecenter was renovated and rebuilt.
The northern Ari-Atill is known for relatively frequent sightings of grey reef sharks (at least during our visit you could see them often). Some quite demanding current dives were done (which I mean against the currents) which is of course too much for one or the other. I sometimes had the feeling that the compressed air was not filtered well, which can lead to severe headaches.
Diving was mainly in the northern Ari-Atoll within a radius of 45 dhoni minutes. I could describe some of the dive sites with my logbook. If someone has more detailed sketches of dive sites, I would be grateful.
Halaveli Wrack

Sven's Faru

Berucolo Thila

Fesdhoo Faru

Feshdoo Top

Little Faru

Dominick Thila

Kandolhudhoo Thila

Maalhoss Thila

Villingili Faru

Homolla Faru

Homolla Thila

Donkalo Thila

Andy Faru

Himandu Thila

Himandu Faru

Fesdhoo Mama

Dee-Gee Reef

Coral Garden

Maayafushi Housereef