The bungalows are divided into two categories: Standard and Superior Beach Bungalows. The standard rooms are located more in the centre of the island and are two-storeyed, while the beach bungalows, in four-block construction, are located near the beach.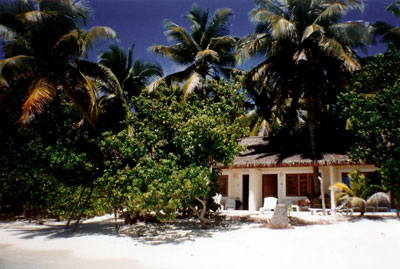 The rooms are quite simple but very bright. The floor is tiled with light-coloured tiles, which enhances the bright atmosphere. In addition to the bed, there is a table with hairdryer, chair, wardrobe and recently also a minibar. The bathrooms are in the Maldivian style, half-open and partly very beautifully greened (a few bungalows even have their own palm trees).
All in all, there are sixty Superior and sixteen standard rooms, which are often occupied by pilots and staff.
The Roomboy cleans the rooms twice as we are used to from the Maldives. We could never complain about cleanliness and friendliness. Except that I had some difficulties with the bed, because it was - equipped with two mattresses - extremely soft and that didn't do my back very well.