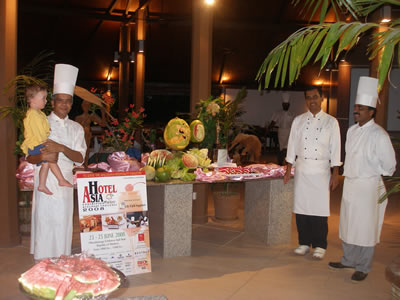 It's time to bring this story up to date. The old story that the food on Embudu is not good is no longer true. The food has greatly improved in quality and the chefs proudly present their work.
Embudu's chefs were even awarded the "Most outstanding chef in Maldives" award in 2008, and they have celebrated the same accordingly.
There is a buffet, morning, noon and evening, with a different theme every evening. on the land. We particularly liked the Sri Lankan Night, because the chefs come from there.
Breakfast is rich with various bread rolls, eggs, pancakes, waffles, etc. Omelettes and fried eggs are made on request and without extra charge.
At lunchtime there is always rice, pasta, vegetables, fish, chicken and meat, just the way of preparation varies. Since this year, curry has also been increasing.
As already mentioned, a theme/country is dedicated to each or almost every evening. The chefs spoil the guest with curry, barbecue Sri Lankan specialities. Pizza and lasagna are also on the menu. This has been there before, but now it has become much better
The dessert usually consists of a selection of cakes, creams, fruits and sometimes ice cream.
The restaurant is connected to a lobby with satellite TV.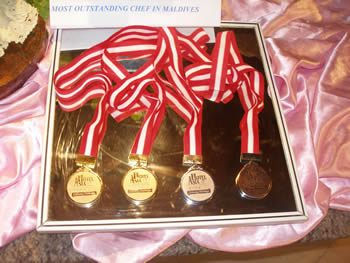 The bar offers cocktails, beer, wine and soft drinks. During the day you can also order snacks or cakes. As mentioned above, the bar is tiled, which is of course detrimental to the real Maldives feeling. Prices range from $2 for coffee/soft drinks and $3.50 for beer to $9 for the more unusual cocktails (e. g., coffee and soft drinks). Long Island Iced Tea, which has it in itself).
Since a few years All Inclusive is also offered. However, I'm not a fan of it, because the tasty things are mostly not included and secondly I don't go to the Maldives to drink in the fight and you have to be almost there to get the surcharge of $25 per day out again.
I have little sympathy for All Inclusive divers, who still in the wetsuit, who come from the boat, pull one or two beers in at the bar. It's bad manners. It is also dangerous to drink all inclusive beer or wine during lunch and then go diving again less than two hours later.